Meet the Team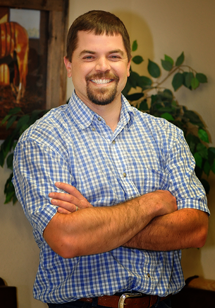 Dr. Ryan DePaul
DVM & Practice Owner
Thompson Peak Veterinary Clinic is owned by Dr. Ryan DePaul. He was raised in Surprise Valley, CA on his parents' ranch. He graduated from Surprise Valley High School in 1997 and attended the University of Nevada, Reno. While going to school he spent 4 years working for the UNR Experiment Main Station Ranch and worked on numerous research programs including Foothill Abortion Trials. He graduated the University of Nevada, Reno in 2001.

Dr. DePaul received his DVM degree from Oregon State University in 2005. Dr. DePaul moved to Alturas, CA and started working for Modoc Veterinary Center in the summer of 2005 and he became a partner in 2007. In 2015, Dr DePaul purchased Thompson Peak Veterinary Clinic along with a fellow veterinarian and then became sole owner in 2019. He has enjoyed expanding his business into the Susanville area and loves coming down to spend time with our clients whenever possible. Dr. DePaul specializes in Equine Dentistry and is a Certified Equine and Small Animal Chiropractor.

Dr. DePaul loves being able to spend time with his family and wife Kristen. Dr. DePaul has five kids, Julianna, Caelli, Abigail, Joshua, and Leigha. He enjoys spending time with his family, sports, hunting, fishing, camping and helping out with his family ranch.

Dr. DePaul enjoys his time practicing veterinary medicine in both Modoc and Lassen counties and he is very thankful to be able to serve them.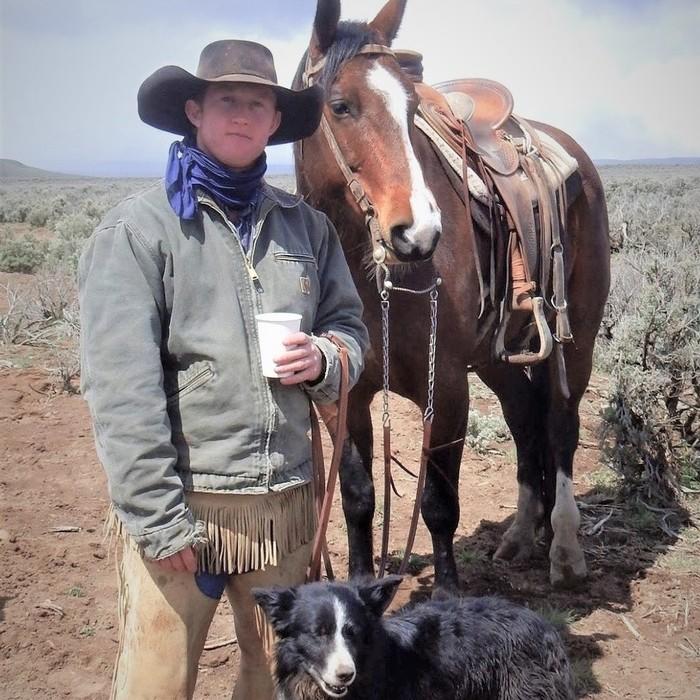 Dr. Wayne Cockrell
DVM
Dr Wayne Cockrell was born and raised in Surprise Valley on his family's cattle ranch. He graduated from Surprise Valley High School in 2006, and began attending California State University, Chico, where he received his B.S. in both Animal Science as well as Agriculture Business. Dr. Cockrell was heavily involved in his education and programs at the university, including working at the university's Meat Lab and Beef Unit.

Upon graduation from CSU Chico, Dr. Cockrell attended Ross University School of Veterinary Medicine and graduated with highest honors, receiving his Doctorate of Veterinary Medicine in 2017. He then did clinical residency at UC Davis.

After working at our Modoc Veterinary Center for 2 years, he relocated to Susanville to join our team at Thompson Peak Veterinary Clinic full time. He is excited to be working in the community, practicing large and small animal medicine. In his free time, he enjoys camping, hiking, and horseback riding, as well as returning to Cedarville on weekends to help out on his family's ranch.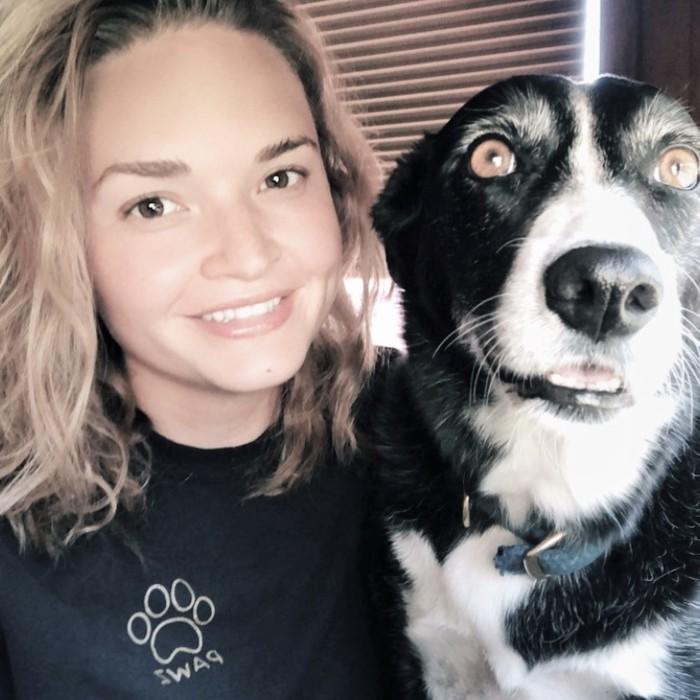 Dr. Kalee Terrill
DVM
Dr Kalee Terrill was born and raised here in Susanville, Ca. She graduated from Lassen High School in 2008 and attended CSU, Chico, where she received her BS in Animal Science while working at the university's Dairy Unit. After graduating from CSU, Chico, Dr. Terrill attended Kansas State University and graduated cum laude with her DVM in 2019. Upon graduation, Dr. Terrill came home to begin practicing at Thompson Peak Veterinary Clinic. She is thrilled to be home in the mountains where she enjoys spending time outdoors, playing music and drawing.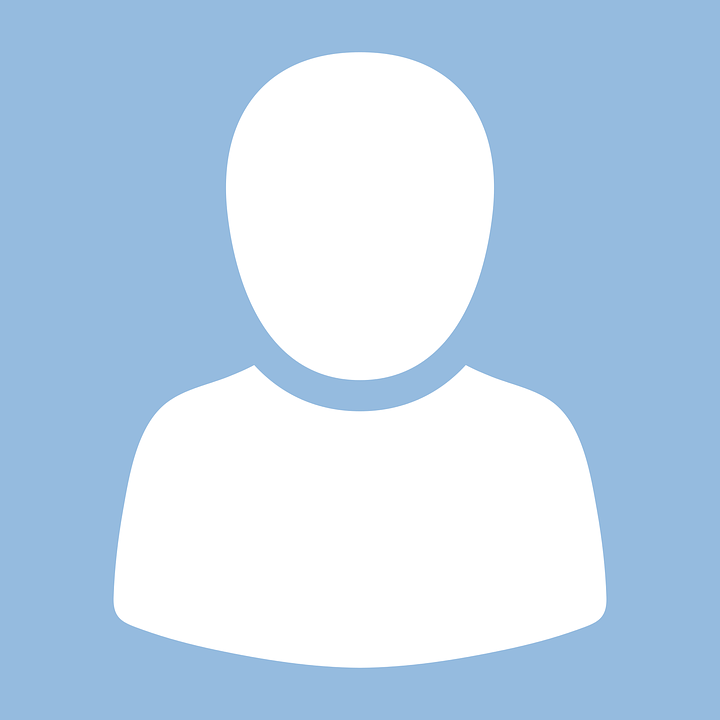 Dr. Suzanna Wharton
DVM
Dr. Suzanna Wharton received her B.S. in Wildlife Biology from Humboldt State University in 2003 and graduated with her DVM from UC Davis School of Veterinary Medicine in 2008. From there she returned to Plumas County to practice after having previously lived in the area. For the past 12 years, she has practiced in the Indian Valley and Chester area. She is happy to be a part of the Thompson Peak Veterinary Clinic and is excited to continue to deliver high-quality care in a compassionate and caring environment. Her favorite areas of practice include preventative medicine, soft tissue surgery, and dentistry. Dr. Wharton enjoys spending time with her husband and family, including the four-legged kids. When she isn't spending time helping animals she enjoys running, fishing, hiking, and trying to make her black thumb green!


Our Staff
---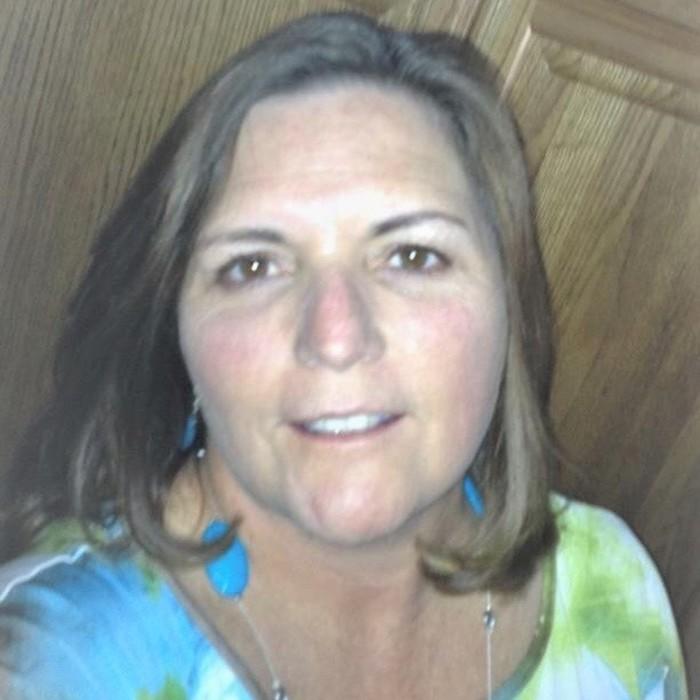 Sue Langley
Office Manager
Sue joined our team in June of 2018 and brought with her experience of over 30 years in the veterinary field. She manages our clinic office and keeps us running smoothly. Sue grew up moving many places but has called Plumas and Lassen Counties her home for the past 20 years. Sue and her husband Jerry have 3 grown daughters and 3 grandchildren that they love to spend family time with, camping, fishing, and enjoying most outdoor sports. Sue's furry kids include Ben -the Lab, Cooper-the English Pointer, 3 Cats and 4 Goats.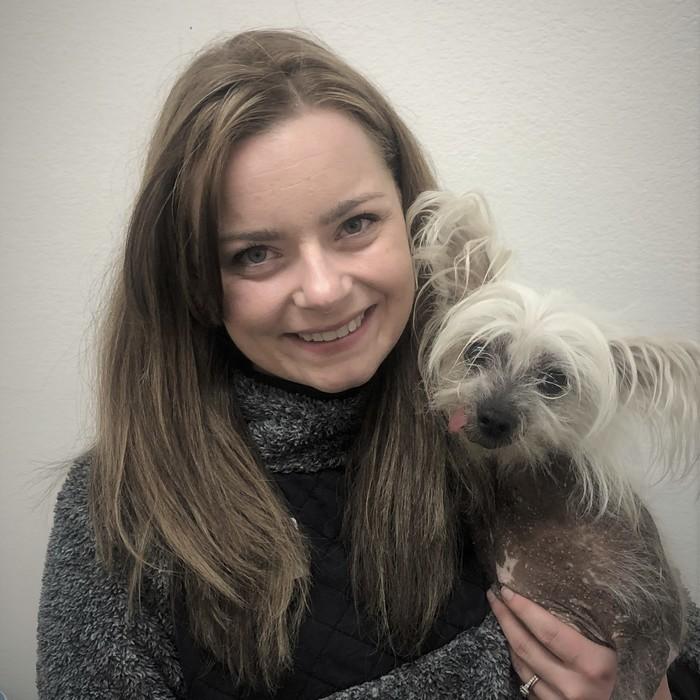 Kaitlyn Marchiando
Registered Vet Tech
Kaitlyn graduated from San Joaquin Valley College and received her RVT in 2016. Kaitlyn and her husband relocated to our area from Strathmore, Ca for his work, and we were lucky for her to join us in January 2019. In her time away from the clinic, she enjoys 4 wheeling in the mountains, making jewelry, and remodeling her home. Kaitlyn loves spending time with her husband and fur babies which include her 3 dogs- Levi, Smith and Wesson, and her cat Peggy.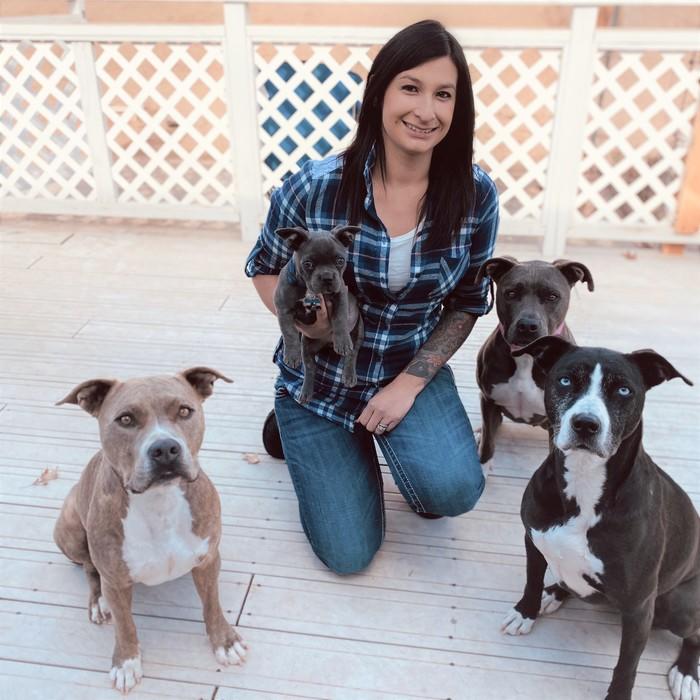 Ashley Jett
Veterinary Tech
Ashley has been one of our familiar faces in the clinic since 2015. Over the years she has helped in both the front and back, and is a great team player. Ashley completed her veterinary assistant classes, and joined our team after 6 years of experience in Monterey Ca. her hometown. Ashley is our bully lover and has 3 at home named Karma, Kali, and Outlaw. She also has a new baby Frenchy named Stitch and 3 cats that she and her husband share a home with in Susanville. Ashley loves to hike, travel and spend time with her family.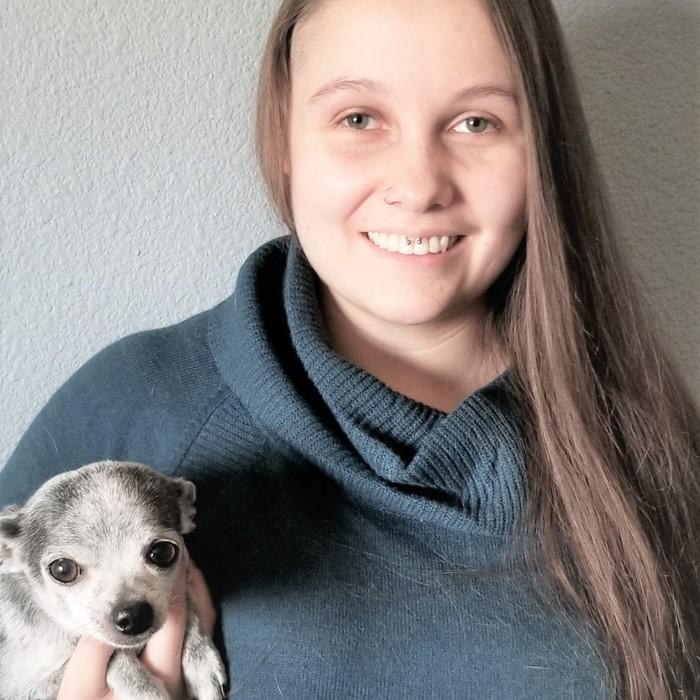 Hannah Morais-Couick
Veterinary Tech
Hannah started with our team in 2016 after graduating from Westwood Charter as Valedictorian of her class. Hannah has continued to further her education with online classes at Penn Foster Tech Program pursuing her RVT in the future. Hannah is a great asset when it comes to the exotic pets we see. She has a ton of experience to offer as she has a house full of interesting pets. Her and her husband have their hands full with 3 dogs, 4 cats, 3 birds, 2 turtles, 1 tortoise, 2 chameleons, 1 bearded dragon, 4 geckoes, 3 rats, 1 rabbit, multiple frogs and tanks of aquatic life. If she has any spare time, she enjoys painting, writing, and family time.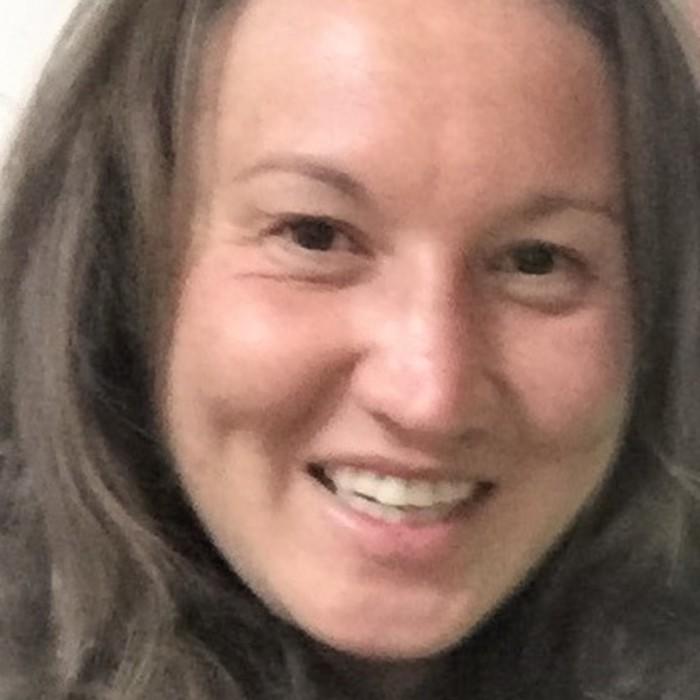 Susanna Ng
Veterinary Tech
Susanna is a Susanville native, that has returned with her fiancé to raise her daughter Stella in her hometown. Susanna received her B.A. in psychology from Chico State and her A.S. in Veterinary Technology from Yuba College. She rescued a feral kitten many years ago named Blacky that does not like other animals, so she is an only 4 legged child. Susanna and her family enjoy spending time in nature hiking and fishing. Picnics with her daughter are a favorite.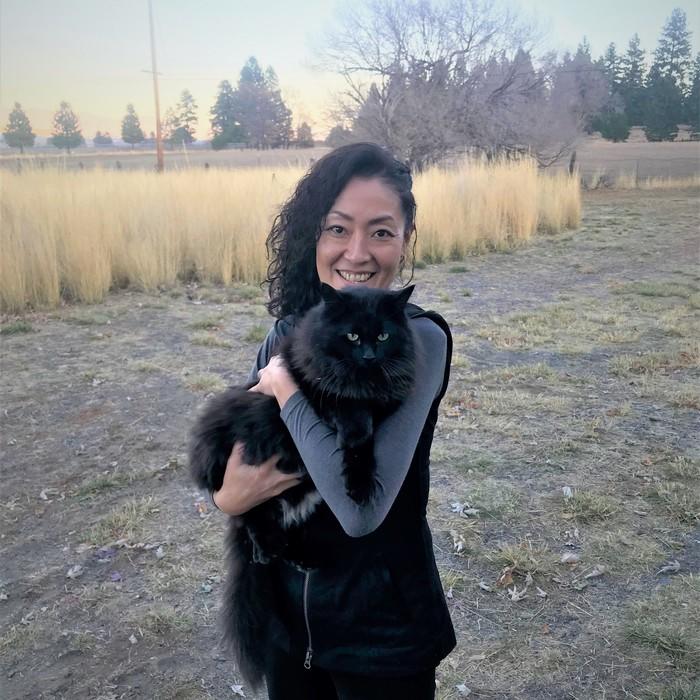 Kikumi Rigney
Lead Receptionist
Kikumi is our amazing knowledgeable lead in the front. She has experience as a vet tech that she combines with her caring people skills to offer the best for our clients. Kikumi is originally from Japan but makes Janesville her home with her husband and 2 children. Her house is home to Yuki a Great Pyrenees, Raider her Bull Mastiff and Mollee a terrier mix and 2 cats Kumquat and Buster. She spends most of her time away from work involved with her kid's activities but in quiet time she loves spending time doing anything with her dogs, hiking, swimming and even just watching TV.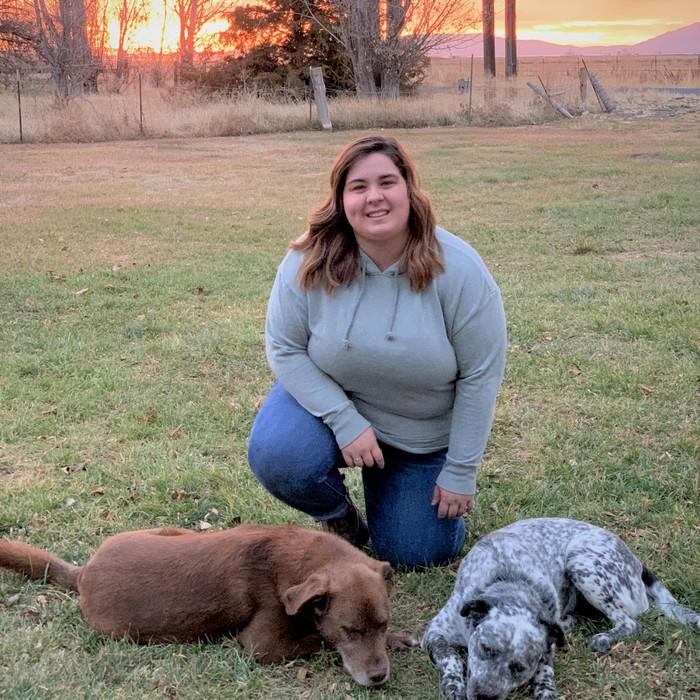 Kelsey Harkness
Receptionist
Kelsey joined our team in December 2018. She is a welcoming face upfront with her smile and personality. She grew up in Walnut Creek Ca. and met her husband after moving to this area. Kelsey and her husband love the outdoors that Lassen County has to offer. Her furry kids include their dogs Dozer -Lab Pyrenees mix, Biz- Labrador, and Polar – Queensland heeler mix, and cat named Benelli. Time away she enjoys spending time with her husband and family, camping, hiking, fishing and hunting.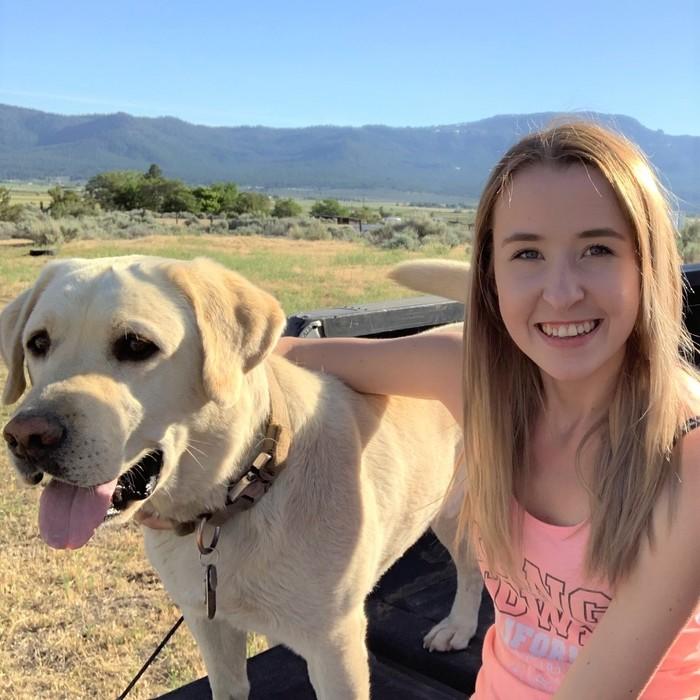 Tamra Patterson
Asst. Technician/Receptionist
Tamra became a team member in July 2019. She works part-time as one of our receptionist team but is currently attending Penn Foster working toward her Veterinary Technician certification. Tamra and her husband Tim have a Labradors named Duke & Axle and a Ball Python named Dahni. She also has added goats to her little ranch. She likes going on adventures especially if it involves the outdoors, spending time camping, fishing, and hiking. She was born and raised in Susanville and loves all the area and what it has to offer.